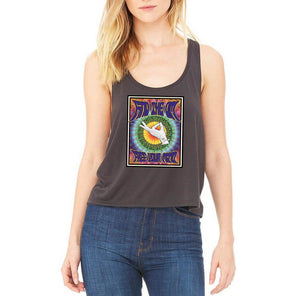 "Find The Om...Free Your Mind" Yoga Tanks
MAMA ITS ALL HAPPENING!!
Our Find The OM -Free Your Mind retro-inspired yoga tank feature the peace-and-calm of the Gyan Mudra. The design is a flirtatious wink at the far out and groovy iconic poster art of the 60s counterculture. Enjoy!
Our yoga tanks are made with freakishly soft fabric that drapes like water over a river bed. Cozy, comfy yoga tanks for the edgy yogi.
100% NO SWEATSHOPS, ECO-FRIENDLY & USA STRONG PRODUCTION - OM GROWN FOR YOUR ROCK AND ROLL YOGI SOUL
65% poly, 35% viscose, 32 single 3.7 oz