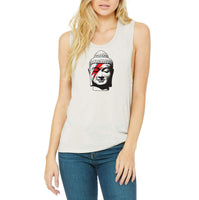 Yogi Played Guitar...
Buddha and Bowie continue to teach us through the wisdom they left behind. Neither claimed to be a god or prophet...just a seeker of truth. Yogi Stardust is the perfect graphic union of two souls who found enough truth to enlighten the ages from the other side.
May their work live forever! 
get this shirt now!
WHAT'S OUR DEAL...?
Our mission is to promote joy, bold individuality and a spiritual lifestyle to color your human experience with such a vengeance, that it takes your breath away on a daily basis.
SO WE ARE GETTING A BIT OF A REPUTATION...
Yogi Stardust Raglan Yoga Tee

- Awesome tee!! Will definitely buy more - love the packaging and the tee and the yummy candle and awesome sticker. ❤️😀🙏

Nicole B.
Sage Against The Machine Candle

- MMMM those candles are yummy! My tanks got me flowing into my garden & energized my new plantings! Go OM!

Shelly W.
Mudra Mantra - Yoga Tank Top

-This is my third tank from Go OM Yourself. As is true for this brand, the tank is soft and flowy and great quality! I've worn it with a midi slip skirt and jeans. It goes with everything and I am a customer for life!

Thury
Kiss My Asana Ananda Hoodie 

- Love my new Gear. The fabric is like butter on the skin. Great conscious Company. 

May it flourish

Marilyn E.
Mudra Mantra - Shunya Backstage Tank

- I LOVE my new Go Om Yourself tank! It's so unbelievably soft and luxurious. It's exactly as described & pictured, only better. It also came wrapped in lovely tissue paper with a rustic bow and business card from the owner. I'll be ordering again for sure.

Jamie G.
OM Grown -Fleece Raglan

- Absolutely in love with my items, great quality and adorable packaging. Thanks so much!

Evie S.
Punk Rock Namaste Yogi Raglan

- I love this design! Edgy and very punk. Excellent quality shirt, as always!

Kelly C.
Chakra Elements" Aromatherapy Candles"

- Wonderful scents!!!

Kelly C.
Namaskar Mudra - Festival Flow

- Love this tank and all Go Om Yourself merch I have-soft, good quality and unique. I get endless compliments anytime I'm wearing it.

Sarah E.
AROMATHERAPY CANDLES / NEW GROOVY DESIGN, SAME AMOUNT OF BACK SASS...