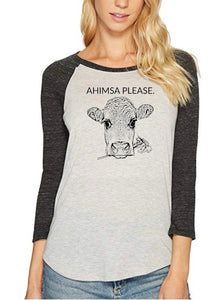 (in the Hindu, Buddhist, and Jain tradition) the principle of nonviolence toward all living things.
Non cruelty, nonviolence; imagine...what a world it could be.
As a tribe, we can practice "AHIMSA" (compassion and non-violence toward all living beings) and make a difference.

Added value! 10% of Ahimsa Vegan Tank Tops proceeds are donated each month to various animal shelters. Subscribe to the blog to see how and where your purchase is making 
a difference.
Fabrication:
Freakishly soft eco-jersey 
50% Polyester, 38% Cotton, 12% Rayon
Contains organic & recycled materials
100% NO SWEATSHOPS, ECO-FRIENDLY & USA STRONG PRODUCTION
OM GROWN FOR YOUR ROCK-AND-ROLL VEGAN LOVIN' YOGI SOUL