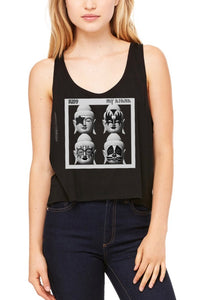 PDA we can totally get behind!  The love affair of Yoga and Rock-and-Roll, rolling in the deep on our flowy yoga tank. Plenty of room to move and super flowy to work that gypsy magic of yours. 
THE WAIT IS OVER!

Our cheeky homage to the long-awaited courtship of rock and roll culture and the spiritual yogi high-vibe world.  Yoga tees and tanks to feed your rock and roll yogi soul. Perfect for those who like a little edge with their love and light. Rock on Ohmies!
OM Shanti Shanti Baby...
ALL OF OUR YOGA TANKS ARE
100% NO SWEATSHOPS, ECO-FRIENDLY
USA STRONG PRODUCTION
OM GROWN FOR YOUR
ROCK AND ROLL YOGI SOUL
65% poly, 35% viscose, 32 single 3.7 oz