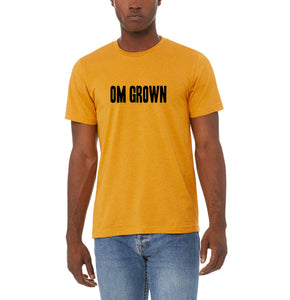 Finally Unisex Yogi Wear for Your Rock-and-Roll Yogi Soul!
At Go OM Yourself we believe that even if we are 100 years old, we are mere infants in relation to the sun, moon, stars and planets. We know there is so much we are still learning as baby beings. With this in mind, we have made yogi wear to wake up each day and see things for the first time...every time (this is super fun...try it). Add the element of "OM" and all that growth and learning is magnified by INFINITY!
We are so totally transcended by our relationship with the OM...it's mind blowing, and it's no joke.
The OM Grown World Tour Crew Tee is designed with freakishly soft fabric - true yogi wear feel
Fabrication: 100% Airlume combed and ring-spun cotton, 32 single 4.2 oz
100% NO SWEATSHOPS, ECO-FRIENDLY & USA STRONG PRODUCTION